3 Simple Ways to Rejuvenate Hair for Spring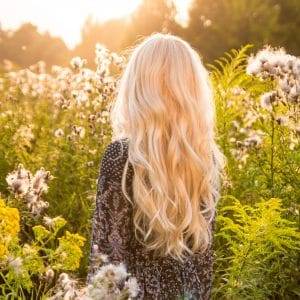 The season of renewal and regrowth is the perfect time to rejuvenate hair and your self-care routine. After months of harsh, cold winter weather producing dull or lifeless locks, reviving your hair for a fresh start is essential. With spring right around the corner, building up your confidence and vivacity helps start the new season on the right foot.
Consider the following 3 tips to help rejuvenate hair before March 20:
New season, new you – right? Getting a haircut not only creates a whole new look for you to jumpstart the season ahead, but trims eliminate split ends that tend to make hair look and feel unmanageable. Hair is made of hard, nonliving proteins called keratins. Once strands leave the follicle, they perish and no longer receive the same nutrients or oxygen from the cells within the root. The ends of your hair have been lifeless the longest, which leaves tips more susceptible to breakage and frizz. Tidying up the bottom of your mane, even just by a few inches, can have a dramatic impact on your hair's overall appearance and help rejuvenate hair for spring.
Use Healthy Hair Products
Unlike generic shampoos and conditioners from your local drug store, Capillus Clinical Hair Therapy contains high quality ingredients that nourish strands from top to bottom. Our clinical shampoo helps to exfoliate the scalp, minimizing dry skin and dandruff, while removing environmental pollutants that weigh strands down. The gentle cleansing ingredients remove dirt, grime and grease without the use of aggressive sulfates that strip hair of its natural conditioning properties. And, Capillus shampoo contains DHT blockers and vasodilators, promoting better blood flow to maintain hair's natural growth cycle. If you suffer from genetic or seasonal hair loss, using a shampoo specifically designed to promote follicle reconstruction and scalp health is key.
Since most of the heat from your body escapes through your head, sporting damp hair in the winter can be uncomfortable and somewhat dangerous, depending on the temperature outside. With warmer weather on the horizon, going all natural with your styling routine gives your hair a much-needed break from damaging styling tools. Rather than strip your hair of its natural moisture content during your AM routine, wash hair at night and braid into two pigtails for natural beach waves. Not only does this shave time off your morning routine, it also minimizes the heat-related damage your hair suffers in the long-run. Spritz some sea salt spray or smoothing balm to finish off the look. If you're in a pinch and need to dry hair just before leaving the house, use a hairdryer on the lowest heat setting and finish with a cool shot to create natural shine.
For more information on Capillus® Clinical Hair Therapy, call our customer representatives directly at 844-280-4680. To keep up with the latest hair care tips and guides, follow Capillus on Twitter, Facebook or Instagram.