What is the Best Thin Hair Treatment?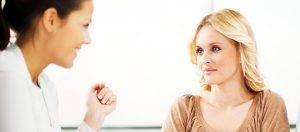 Across the nation, 20 to 30 million women suffer from hair loss. However, women's hair loss is more complicated given its diffuse pattern. Not only is female hair loss more widespread, it does not typically result in full baldness as men's hair loss sometimes manifests. These factors make women's hair loss more difficult to detect, and also more complicated to treat. Every day, the average person sheds between 50 to 100 strands of hair. Thinning or shedding occurs when the follicles fail to produce new hairs as replacements. Unlike male pattern baldness, women's hair loss occurs throughout the scalp. Men, on the other hand, typically see hair loss in targeted areas, including the crown or temples. While genetics play a role in male hair loss, hormones and stress are often the culprits behind female hair loss. Androgenetic alopecia, a hereditary condition, is the most common cause of female hair loss. According to the Ludwig classification, there are five degrees of women's hair loss, each with varying severity. Type I is mild but has the potential to become progressively worse, whereas Type V is the most advanced progression of female hair loss. Hair transplant surgery is not always an option for women because of the typical pattern of hair loss in female. The following are the common go-to treatments in combatting thin hair:
Rogaine is an over-the-counter topical treatment used twice per day, but is often messy and time-consuming. Often, doctors won't prescribe medications for women's hair loss, so Rogaine™ is a viable alternative. However, the effectiveness varies depending on the patient and costs between $15 and $30 per month, with the total cost unknown as length of treatment is discretionary.
Propecia, or its generic name Finasteride, has been used as a hair loss treatment since the '90s. However, Propecia is strictly for men. Women should not even handle broken, crushed or uncoated Propecia tablets when pregnant, since a male fetus can absorb the finasteride and suffer birth defects.
Unlike inconvenient and messy topical foams (Rogaine), women suffering from thinning hair can opt for a safe and reliable treatment in low-level laser therapy (LLLT). LLLT stimulates blood flow in order for the body to carry oxygen and nutrients to each follicle. LLLT is also believed to provoke phototherapy, which increases cellular activity. In combination, the effects of LLLT prompt a fuller, thicker head of hair. For more information on hair loss treatments including Capillus™ laser caps, the first LLLT caps to receive FDA clearance for male and female hair loss treatments, contact our office today at (844) 280-4680.