Can Frequent Use of Hair Dye Increase My Risk of Hair Loss?
Hair dye is one of the most popular beauty products on the market. Men and women use it to enhance the appearance of their locks. It can also help to minimize the effects of aging and hair loss in women and men alike. If you use hair dye frequently but are wondering whether it can impact hair regrowth or health, let us explain more about the process.
In this guide, we will describe the effects that dye can have on your hair. We will also explain how you can minimize the potential impacts of your dyeing routine, so you are able to enjoy a healthier scalp and fuller-looking hair.
How Hair Dye Affects Hair Health
If you are concerned about hair loss or hair regrowth, you are probably wondering if your hair color is causing more problems. According to dermatologists, dyeing your hair does not inhibit hair growth. However, hair dye can aggravate hair loss. The reason why this damage can occur is, in part, because of the dyeing procedure.
Each time your stylist colors your hair, they have to manipulate the strands through combing, washing, and rubbing. As they work the hair through their hands and tools, it can increase the number of strands you lose from your head throughout the day.
Hair dyeing also enhances the risk of thinner hair through breakage because of its harsh chemicals. Ammonia and hydrogen peroxide are just a couple of the ingredients that are necessary for the dye to work. While they increase the effectiveness of the dye on your hair, they can also weaken the hair shaft. Recoloring can further increase the chances of breakage-related hair loss.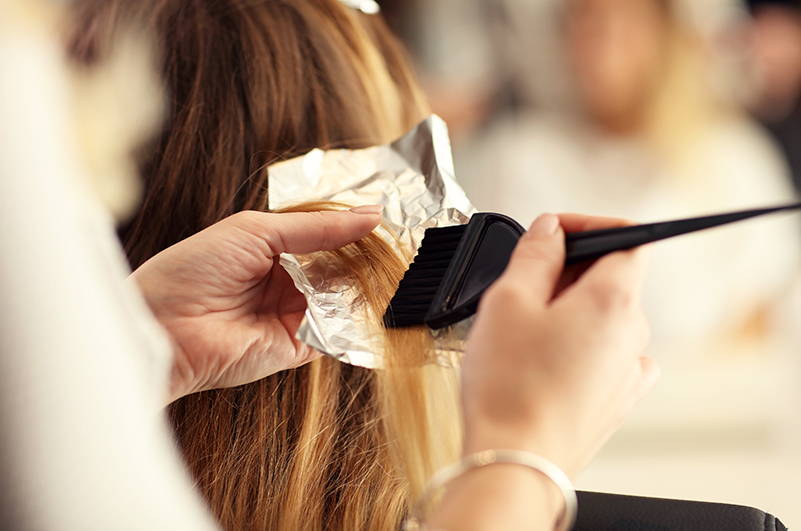 How to Care for Your Hair
If you dye your hair and are concerned about your hair health, there are many things you can do at home and at the salon. First, consider how you can adjust your dyeing routine. Talk to your stylist about your concerns for hair loss and hair regrowth, as well as the alternatives to your current dyeing strategy. You may be able to switch to dye products that are less harsh, such as a different formula or a hair gloss.
It may also be possible to change your hairstyle or color, so you do not have to visit the salon as often. Some daily products, such as shampoo and conditioner, can also help to strengthen your hair through your usual hair regimen. Other strategies you can use each day include brushing more gently and avoiding tools that can contribute to hair damage, such as curlers and straighteners.
Our CAP+ Clinical Hair Therapy Bundle includes a specially formulated shampoo, conditioner, activator, and revitalizer for promoting hair health and hair regrowth. Cleanse and moisturize your hair while exfoliating your scalp to promote the overall wellness of your strands and scalp.
Laser Technology for Hair Regrowth
Now that you have reviewed the changes you can make to your daily hair care regimen and dyeing routine, you can create a plan that works for you. Evaluate each of your hair strategies and tools to determine if you are damaging your locks without realizing it.
If you are still concerned about hair loss or hair regrowth, we invite you to learn more about how a laser hair growth cap can help. Our Capillus laser caps are an FDA-cleared way to treat hair loss associated with female or male pattern baldness.
FIND OUT WHICH CAP IS RIGHT FOR YOU
While it is helpful for this specific condition related to hair loss, it can also improve hair health in people with hair growth concerns. Its comfortable, discreet design is appropriate for both men and women who want to enhance the appearance and feel of their hair.
Each laser cap uses the power of photobiomodulation therapy (PBMT) to stimulate and improve the health of your hair follicles. Best of all, each laser cap is easy to use. Just six minutes per day is all you need to complete each cap's daily laser regimen. Use it in conjunction with our clinical hair therapy bundle for the best results. In just a few minutes per day, you will be on your way to better-looking hair and more confidence.