Hair Loss 101: Is Low-Level Laser Therapy Right for Me?
In the quest for healthy fast-growing locks, low-level laser therapy (LLLT) is one of the best options out there. It utilizes low levels of near-infrared light to stimulate and energize the cells within the hair follicles, triggering healthy growth. LLLT works by increasing the health of the blood vessels within the scalp and supplying them with the nutrients required to produce long, strong, and silky strands. It also helps to increase melanin production, which can darken gray hairs.
Because laser therapy is pain-free, has no major adverse side effects, and can be performed at home, it's a highly desirable way to treat thinning and balding hair. But this hair loss treatment isn't right for everyone, and there are a few factors that will dictate whether or not you will have success using LLLT devices. Here are the main factors that will help you determine whether or not this kind of therapy is the best choice for your unique scenario.
You are a good candidate for Capillus laser hair growth therapy if your hair loss is hereditary and not caused by a condition that renders hair follicles inviable.
The most common type of hair loss—androgenetic alopecia (pattern baldness)—occurs due to genetics. It's a progressive condition that worsens over time, and it constitutes 98 percent of hair loss. If your hair loss is hereditary, Capillus laser therapy may be a great treatment option for you. If you begin treatment during the earlier stages of progression, Capillus laser therapy may stop further progression and regrow your thinning hair.
If you have androgenetic alopecia, your hair will begin to thin out in a pattern. In men, the hair is lost in a pattern beginning above both temples, receding to form an "M" shape, which thins near the top of the crown and then progresses to complete or partial baldness. In women, androgenetic alopecia manifests itself through all-over thinning rather than baldness, and it usually doesn't progress to total baldness.
In short, in order for you to restore your hair growth without taking surgical measures, there need to be viable hair follicles to treat. This is why it's so important that you treat your pattern baldness as soon as you start to see signs that hair is slow to grow or thinning out.
The Stage of Hair Loss and Skin Tone
You are a good candidate for Capillus laser hair growth therapy if your hair loss is in the early stages of loss and if your skin tone is pale to light brown.
As mentioned above, LLLT works well, but only in people who are in the earlier stages of hair loss. Capillus laser caps are intended for the treatment of adults with hair loss represented within the shaded areas of the image below. In other words, those with advanced stages of hair loss probably won't see any measurable results with this kind of therapy, but, if you address it in time, LLLT is an excellent choice.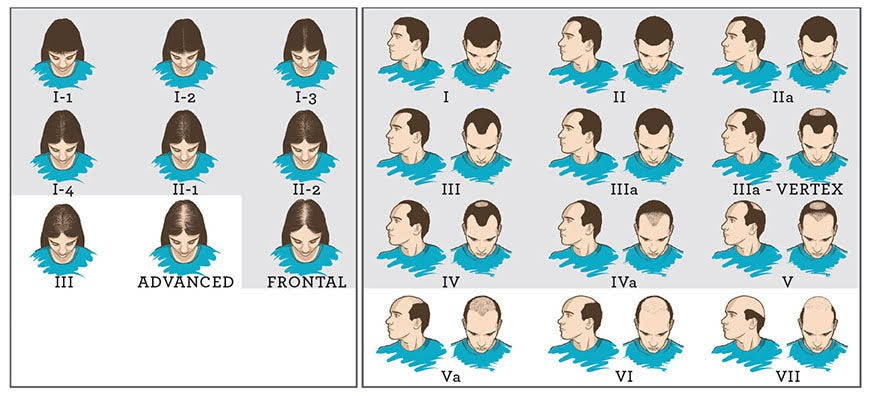 Per our FDA clearance, Capillus laser therapy is intended for the promotion of hair growth in males and females with androgenic alopecia who are at certain degrees of hair loss according to the Ludwig-Savin Classification (the Scavin Scale) for women and the Norwood Hamilton Classification (the Norwood Scale) for men, both of which measure the degree of hair loss and thinning. Both genders must have a Fitzpatrick Classification of Skin Phototypes I to IV (pale to light brown skin). In short, the ideal candidates have these characteristics:
Women: Androgenic alopecia with a Ludwig-Savin Classification of I-II with Fitzpatrick Classification of Skin Phototypes I to IV.
Men: Androgenic alopecia with Norwood Hamilton Classification of I-V with Fitzpatrick Classification of Skin Phototypes I to IV.
What if I'm Not a Good Candidate?
If you're not the ideal candidate for this type of hair loss therapy, all hope is not lost. You can still have your hair loss treated through surgery. We recommend surgical hair restoration and other treatment options, such as micropigmentation, keratin fibers, and hairpieces, to those who have advanced stages of hair loss. Be sure to connect with a hair loss physician in your area if you'd like to talk one-on-one about your options for treating advanced hair loss.