Consistency, Consistency, Consistency: 4 Tips For Healthy Hair Regrowth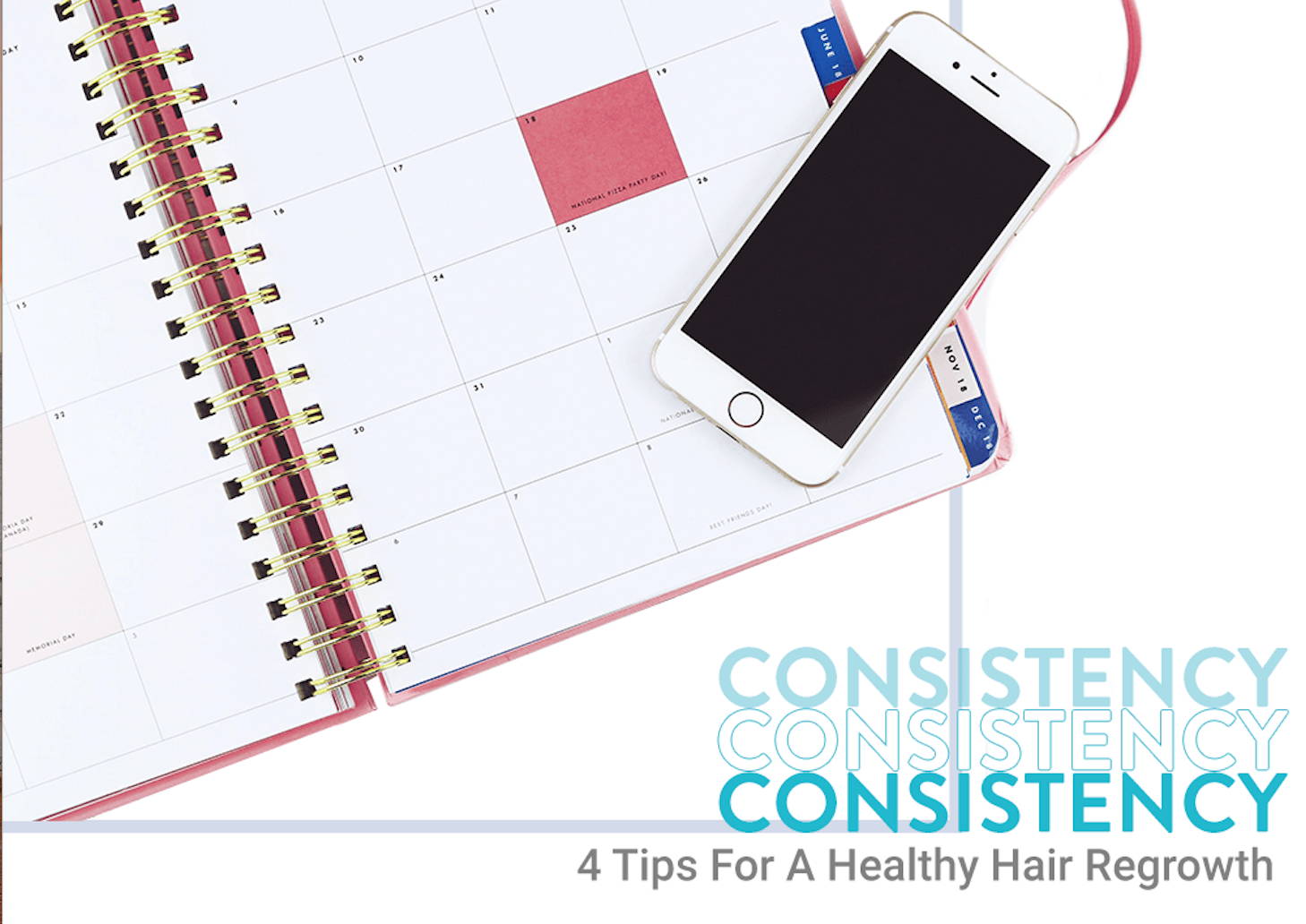 ---
Healthy hair habits can change the game in a hair loss journey, but the keyword for changing any behavior long-term is consistency.
---
By implementing healthy habits into your hair routine, you must have a genuinely consistent AND INTENTIONAL approach to nurturing your scalp as well as your hair.
Hair journeys do not usually happen in a day; incredible before & after transformations are similar. It takes months to grow out a bob and various services (and hundreds of dollars) to become a platinum blonde or remove black-box color. Point is, the nature of hair growth is slow and gradual. Healthy beauty changes also take time, but they also require a period of recovery when it comes to hair health.
Hair loss and regrowth are two sides of a very similar coin. Whatever the reason, losing hair is a gradual process that catches up with you, and regrowth also takes time and multiple efforts to change.
---
---
---
6 minutes a day is genuinely an easy task, the one challenge?  Remembering as you go about your busy day. Take the time to set up a daily alarm. This can be game-changing during the first two weeks of building your new Capillus moments, and eventually, it will become second nature to you. If you miss a day of taking your finasteride, or a day of your Capillus cap, WRITE IT DOWN! Holding yourself accountable is key to your success precisely because hair growth is an accumulation of daily habits. The more days you miss, the more days you have left to change it around.
DON'T FORGET to take a BEFORE selfie! Hair journeys are challenging, especially at the beginning when you do not want to brag about thinning. This is especially true when it comes to the start of ANY picture you may find an "embarrassing" hair loss journey. The Capillus story starts from the inside out, which means your after pic will exist six months down the road. TAKE YOUR BEFORE PIC ANYWAY and learn how to do so HERE. Check out these success stories!
---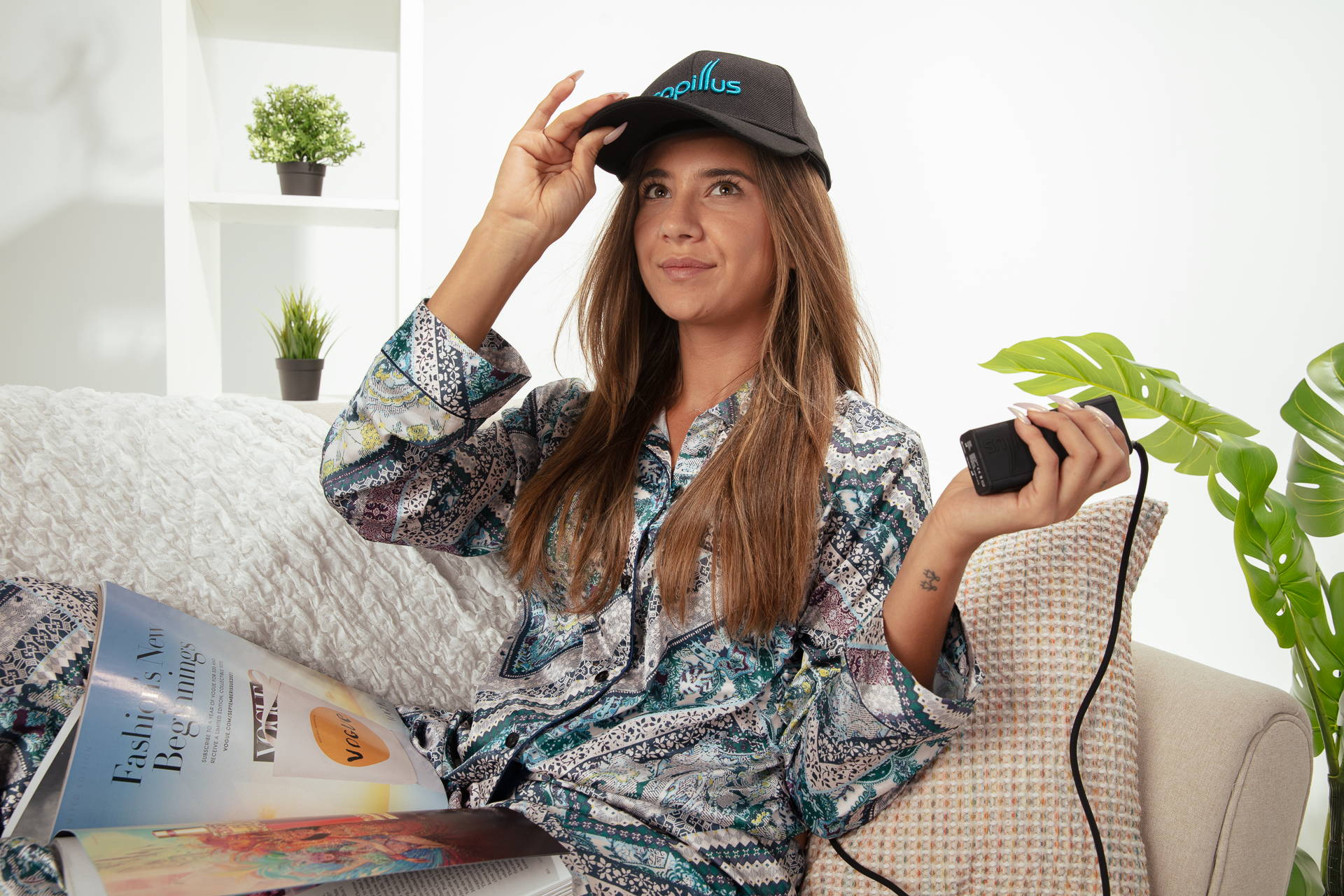 ---
HAIR HEALTH BEFORE STYLING
Simple daily tasks affect the health of your hair enormously. From the temperature of the water that you use, to your preferred hairstyle, a hair growth journey requires you to make the healthiest choice in every scenario. Below are a few tweaks you can make to your lifestyle that will inevitably help the health of your hair and scalp as you explore the world of LLLT.
-     Beware Of Heat: Wash your hair with lukewarm to cold water; heat damage can happen in the shower too! Learn to love your natural texture. This will keep you from heat-styling your hair.
-     Be Protective About Tools & Products You Use: From your leave-in conditioner to hairspray, brands now include UV protectors as an essential ingredient in styling technology. Learn to read the ingredients and choose brands that truly protect from environmental factors that lead to dehydration & breakage.
-     Brush with Care: Take five extra minutes in the morning to slow down your brushing.
Hair loss increases with an aggressive and rushed brush routinely. Treat your hair like you would a child's, and don't rip through knots; this could be contributing to stunted growth.
Be shameless about your journey! More people are going through this than they care to admit. Find a friend to take along on your journey, share your stories, and try out/ compare different products and tech as you grow out your thinning areas. Having a friend that you can laugh with is KEY when it comes to hair loss; it makes you feel like you are not alone… because you aren't! And while you're at it, join the Capillus family. We'll help with the latest tech in town!