Do Laser Caps Really Work?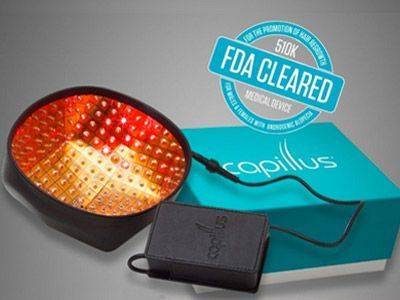 Laser caps are designed to nourish hair follicles with low-level laser energy, a special spectrum of laser light that is both cool-to-the-touch and non-destructive. This type of cold laser light does not ablate or destroy tissue. Rather, it gently permeates throughout the cell, inducing a series of chemical reactions that produce energy. This process is called phototherapy, and it is the main mechanism through which physicians believe low-level laser therapy (LLLT) reverses the signs of hair loss. But how can you be certain that you are choosing a LLLT hair loss product that is safe, proven, and effective? To answer this question, we take a closer look at the science, professional opinion, and clinical trials behind laser cap/hat technologies.
The Science Behind Hair Loss Laser Caps
The Root of the Problem. There are a number of factors that influence male and female hair loss, but each has a common underlying factor: Poor hair follicle health. Hair loss occurs when hair follicles "shut down" and become unable to sustain a natural growth cycle. This process happens in a progressive fashion, resulting in pattern baldness (in men), or more evenly distributed thinning and balding across the entire scalp (in women).
An Opportunity for Intervention. Many physicians credit the efficacy of LLLT for hair loss to its ability to nourish the derma papilla (DP), a small cluster of cells found at the base of the hair follicle that is believed to engineer and maintain hair growth. Through LLLT, hair loss professionals believe the DP can be restored to a healthy state in which normal hair growth is resumed. With ongoing LLLT, many men and women have been able to reverse the signs of hair loss, without the need for surgery or medications.
Is There Evidence That Proves Laser Caps Work?
A growing body of research indicates that laser cap/hat technologies can not only stop hair from falling out, but also nourish hair follicles in a way that encourages new hair growth. Our premarketing study for FDA clearance revealed a 51% increase in terminal (growing) hair counts for those using the Capillus272 Pro as compared to the placebo device."
Finding a Product That's Right for You
There are a variety of products that say they will regrow your hair, but not all laser caps and hats deliver on that promise. Here are a few tips to separate the fact from fiction:
1. Research the product to see if it is backed by clinical trials. The first question to ask about a hair loss laser cap: Does it work? If a manufacturer claims the product has been "clinically tested" or "clinically proven," the trials must be registered and made available to the public in order to comply with the Safe Medical Device Act of 1996. To learn more, visit ClinicalTrials.gov and search for the product to read about actual trials and results.
2. Verify FDA clearance to ensure personal safety and efficacy. The U.S. Food and Drug Administration provides clearance for certain medical products that are "at least as safe and effective" as their stated purpose. To ensure safety and efficacy, patients are urged to select a laser cap that has received FDA clearance for the treatment of androgenic alopecia in both men and women. What To Do: Look for a laser cap product that has FDA clearance. Then, ask the manufacturer for the product's K number. If they do not have one, the product has not been submitted for FDA clearance. If they do have one, however, it does not necessarily mean the product has been cleared. To verify clearance, patients must visit the FDA online and enter the K number in the FDA database to search and verify the status of the filing.
3. Choose a product that is endorsed by reputable physicians. We recommend consulting with your physician, who can provide a personalized diagnosis and treatment recommendation to safely and effectively treat hair loss. To learn more, find a licensed Capillus physician near you.
Visit this page for more information about Capillus Laser Cap FDA Clearances.
Does Capillus Really Work? Learn More About Laser Caps by Capillus®
Capillus uses clinically proven low-level laser technology to help promote hair growth in just 6 minutes a day. Capillus caps use lasers to stimulate your cells to produce more ATP and improve blood flow so that nutrients and energy can be used by your hair follicles to help generate more hair. These lasers don't produce any heat themselves, so they are safe to use FDA-Approved. Take Capillus anywhere you go as our laser diodes are tucked into a cap and comes with a portable battery to serve you wherever you may be. At Capillus, we're all about hair. To learn more about our LLLT laser cap products, including the CapillusPro™ (formerly the Capillus272™), please call 1-888-272-9599. Capillus272™ Receives FDA Clearance. We are pleased to announce that the Capillus272 Pro has received clearance from the FDA for the treatment of androgenic alopecia in both men and women! Visit this page for more information.