How to Catch Early Hair Loss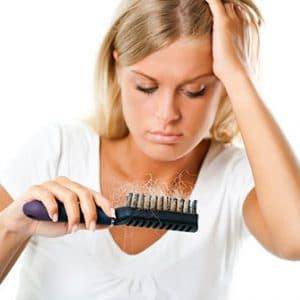 Unless you suffer from alopecia areata, an autoimmune skin disease that sometimes sparks spontaneous and immediate baldness, hair loss is largely a progressive illness. For patients, progressive hair loss is best combatted with early detection. Fortunately, androgenic alopecia, which is the most common type of hair loss in both men and women, can be spotted early on. Prompt detection is key to treating hair loss and widening your chances of restoration without the need for surgery.
Early Hair Loss Warning Signs
In men, androgenic alopecia is classified as male pattern baldness. Research shows that this condition is hereditary and can start as early as 20 years of age. However, male pattern baldness typically begins between 25 and 35 years old. For men with short hair, detecting thinning or shedding by monitoring hair loss isn't easy. Shorter hairs aren't as apparent to the naked eye when they appear on clothing, bedding and floors. Don't expect your hair to fall out in clumps, either. Rather, patients suffering from male pattern baldness often show gradual thinning that worsens with time. If you think you may suffer from male pattern baldness, your hairline may illustrate initial warning signs. A receding hairline is a common indication of androgenic alopecia in men. Additionally, thinning or balding at the crown of the head is another common side effect to watch. Once you've analyzed your current condition, you have the power to decide the right treatment path given your lifestyle, condition and hair goals. Similar to male pattern baldness, female pattern baldness is widely understood to be linked with age, hormones and genetics. In women, the best way to diagnose androgenic alopecia is by keeping track of what may be disguised as regular hair loss. Humans lose anywhere from 50 to 100 strands per day. Excess hair loss can show up in your drain, on your pillow and even in your hairbrush bristles. Another tell-tale warning sign is a widening part, which allows more of the scalp to show through your strands. You may also see thinning around the crown, but rarely does female hair loss result in complete baldness. Visiting a professional for a formal diagnosis can help determine what sort of treatment is necessary while ruling out any other related illnesses.
Low-level laser therapy with Capillus® can be particularly beneficial for treating early hair loss. Rather than wait for complete balding or obvious thinning to occur to qualify for a transplant surgery, Capillus® laser caps are the non-invasive option for combatting hair loss at any stage. As the most economical option, the Capillus82™, contains 82 laser diodes and requires just 6 minutes of wear every day. Capillus® laser caps have been proven to increase hair count by up to 51 percent in independent clinical trials. For more information on the Capillus82™, Capillus202™ or the physician-prescribed Capillus272 Pro™, call us at 844-280-4680.