How to Look Younger Through the Right Hairstyle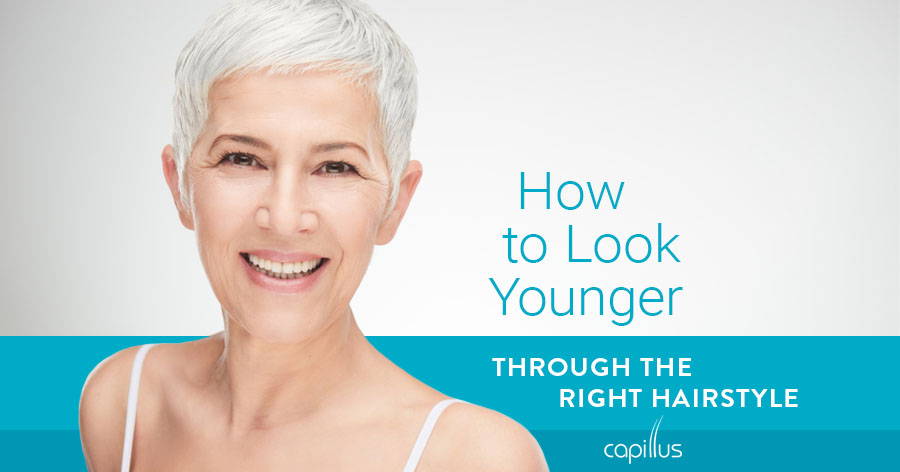 Everyone wants to look younger—and there are many ways to combat the effects of aging. Hydrated skin, nutritious foods, and exercise can help you to appear more youthful. It is also possible to take years off your appearance by enhancing the shine, volume, and color of your hair.
If you are a woman who is experiencing the effects of female hair loss, a man who desires to reduce the impact of male hair loss, or someone who simply wants to keep their locks looking thick and healthy, look to this guide for plenty of anti-aging tips. Combine your favorite healthy hair routines and resources with our Capillus® laser caps to grow thicker hair and reduce the effects of hair loss.
Creating the right plan for yourself can help you grow healthy hair faster than before. You will also save time and money by avoiding the products that don't work. When you focus on the devices and therapies that are known to be effective, the process of looking younger becomes faster and easier. Now it's time to take some proactive steps in the name of anti-aging. Read through each section to discover the best hairstyles, clinical products, and alternative treatments for your beauty and wellness needs.
Finding the Right Hairstyle for Women
If you are into solutions for anti-aging, it is essential to invest in the right haircut. While it is one of the more affordable ways to make you look younger, it will also make you look more youthful in a short time. One way it does this is by creating an appearance of natural volume. Some of the best styles for women with female hair loss include the bob haircut and pixie cut. There are also several other haircuts that feature volumizing blunt angles or a side part. Here's a little more information about each of them: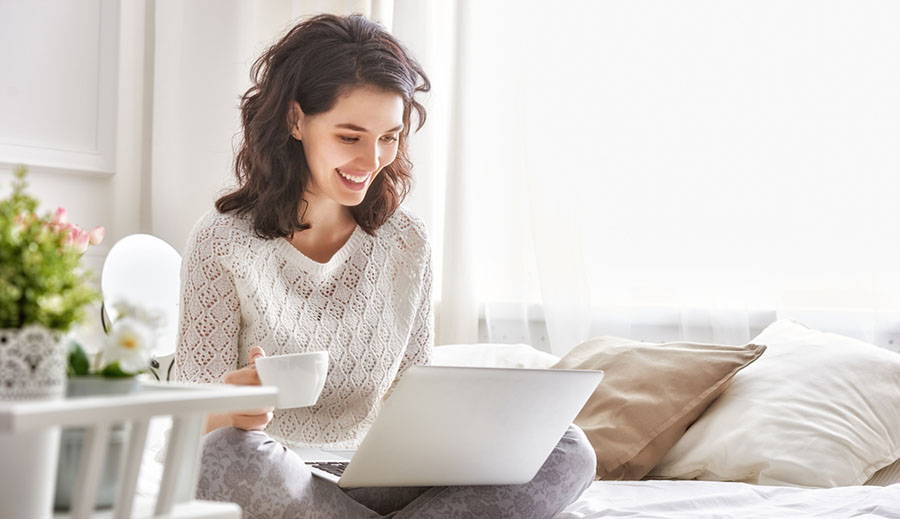 The "Bob"
Bobs are one of the hottest styles for women of all ages. They are recommended by stylists because they add fullness to your hair from root to tip. A heavier look at the top of the head near the crown creates an illusion of more thickness. While you can keep your bob sleek and chic, it is also possible to evoke an edgier vibe.
Add a few layers or blunt pieces at the ends for a more dramatic look. This will help to create an even heavier, chunkier appearance to the hair. Many women also like the lob haircut, which is a slightly longer variation of the bob. Talk to your hair professional about the difference in length and how it applies to your face shape and hair texture.
The Pixie Cut
If you're a fan of this short, cropped style, you're not alone. The celebrity pixie cut is a phenomenon that has inspired women around the world. Jada Pinkett-Smith, Scarlett Johansson, and Michelle Williams are just a few of the stars who also love this cute, trendy look.
While there are variants of the original style, every pixie cut is the shortest on the back and the sides of the head. The hair is kept slightly longer on top, which creates a modern, feminine look. Create a side part and comb the hair over to add more volume. Another idea is to keep the sides shaved and leave a thick, textured layer on the top.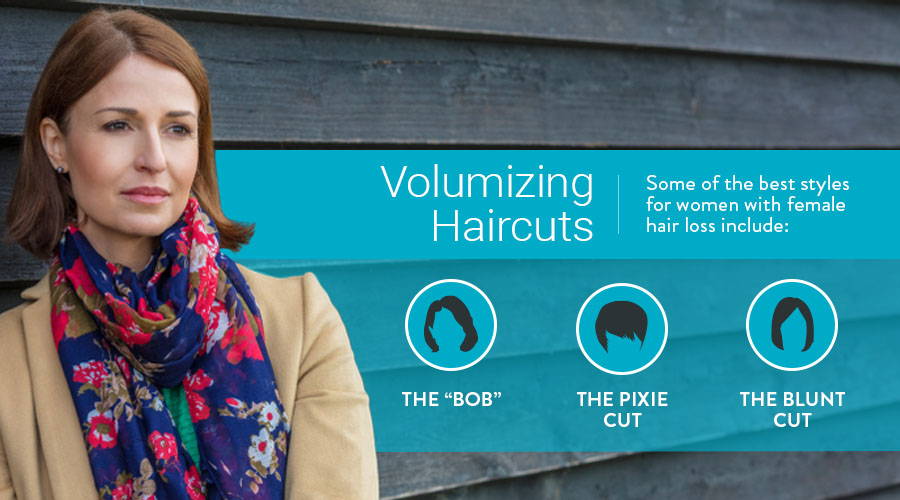 The Blunt Cut
There are many blunt hairstyles, so ask your salon about the blunt cuts that fit your hair length and face shape. These hairdos are popular or women with thinning hair because they lend themselves to a thicker, fuller appearance. The key is to keep the ends blunt while shaping the hair around the face to create dimension. Cropped blunt cuts look beautiful with a clip or a barrette. Styles tucked behind the ears and smoothed with hair products are effortless to maintain.
What to Avoid
While these cuts are best for women with hair loss or thinning hair, there are some hairstyles that you will want to avoid. Braids and buns are attractive and unique, but they can pull on your hair or damage your scalp if they are pulled too tight. They can even interfere with hair regrowth. Use them sparingly to ensure that you aren't cutting off blood flow to your head.
Keep hair ties and scrunchies as loose on your hair as possible. Weaves and extensions may also contribute to certain hair loss conditions. Clip-in extensions are usually the gentlest option for preventing damage to natural hair.
Choosing the Right Hairstyle for Men
Men with hair loss should be just as selective about their hairstyle as women. This is because the right cut can make your hair look more thick and full. It also enhances your face shape. This will help you to look more youthful while also contributing to your self-confidence. There are plenty of styles for a mature hairline, thinning hair, or conditions like male pattern baldness. The following options are attractive and also help to make the hair look more full: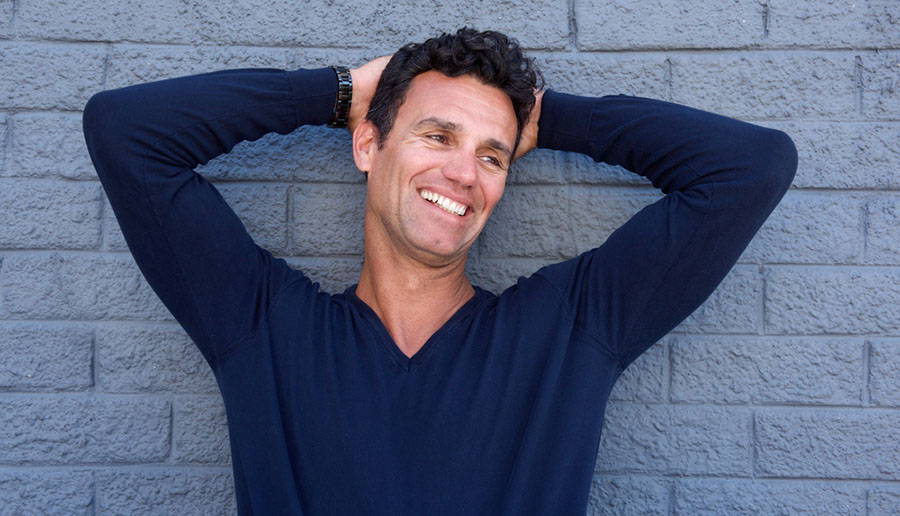 Long Comb Over
The long comb over is popular among younger men, but guys of all ages look great with this trendy look. To get it for yourself, ask your barber or stylist to keep the length you have. They will then use a combination of manual and electric clippers to fade your hair, which conceals a mature hairline.
After they design your long combover look, they will recommend the right hair products to keep your style coiffed and in place. Many guys with long comb overs and low fades like to use a mousse styling product, which helps create natural volume and shine without adding buildup that will weigh your roots down.
Pompadour
The eye-catching pompadour style leaves longer hair on top, and then gathers it backward to add dramatic volume. It also helps to mask any balding or thinning on the top of the head. The key is to keep the side short and the fringe long on top, and then use a hair dryer and styling products to achieve even more volume and fullness.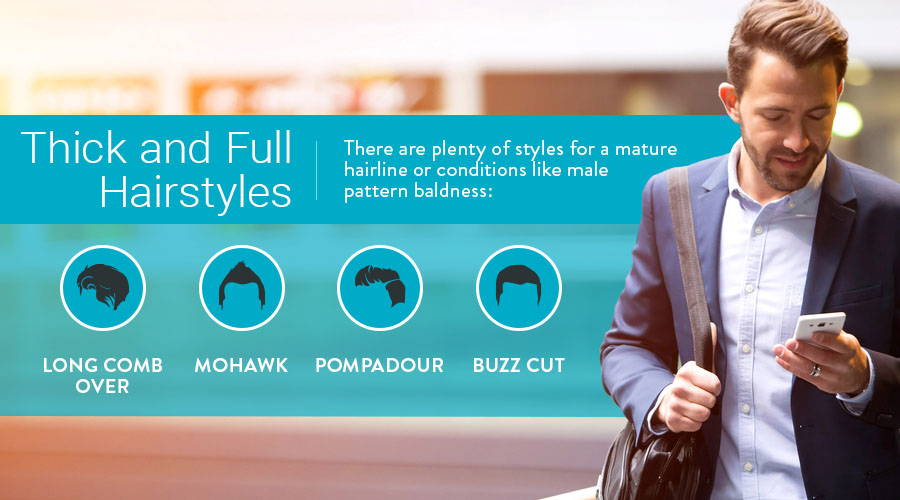 Mohawk with Shaved Sides
This cut works with your natural length and volume. The shape also helps to direct your eye to the jawline, which creates an air of style and masculinity. When you visit the stylist or barber, they will shave the sides of your hair, and then leave it as long as you want on top. Short mohawks are the easiest to maintain and look stylish in almost every setting. Longer ones are more dramatic while providing you with added volume and fullness.
Buzz Cut
If you are interested in a simpler yet classic style, try the buzz cut. Since it's created with electric clippers, you can design different lengths and shapes in a matter of minutes. Some of the most popular buzzed styles include the crew cut and flattop. You may even like what is known as a "butch cut." Ask your stylist to explain the differences between the different clipper styles and which one would help to enhance your face shape while making you look younger.
Consider Enhancing Your Hair Color
Another one of the most popular anti-aging strategies is to change hair color. Some men and women are most interested in removing grays or white hair, while others want to make their locks look more youthful and shiny. The trick is to use high-quality, trusted products and techniques, so the color creates a soft, anti-aging effect instead of appearing shocking and unnatural. Here are a few of the most popular ways to adjust your hair color so you look younger:
Cover gray hair:

While gray hair is gorgeous on many people, others may want to change their hue entirely. If this sounds like you, there are different options for reducing or removing grays; some of which may be a bigger commitment than others. To

cover the gray hair

entirely, you will need to use a permanent hair color. This requires visiting the salon on a regular basis to prevent issues with color quality and consistency. Another idea is to use semi-permanent color, which contains zero ammonia and fades out over time. Your salon can help you decide on the option that is best for you.

Highlight your hair:

Highlights are often less harsh than using permanent color. They also help to distract the eyes from grays, but they do not remove them entirely. This can make you look years younger while still appearing natural. Different hues make the hair look more prismatic, which means it creates a reflection of light all over your head. This adds dimension to your style, which makes your locks look fuller and thicker. It is also an easy way to blend gray strands, so they look more natural and less dramatic.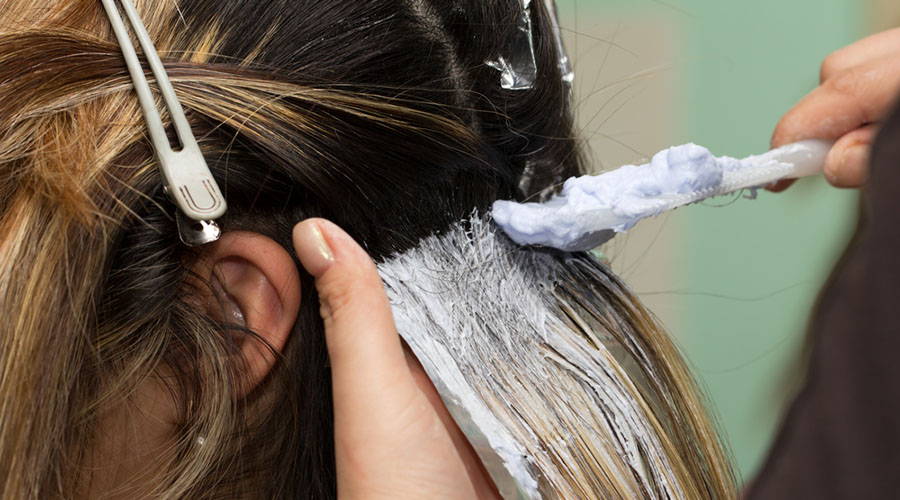 Use a clear gloss:

Many gloss products contain pigment, but a

clear hair gloss

will just make your hair look shinier. Some treatments will also help to condition the hair at the same time. Visit your stylist for a clear gloss when you get your next trim or cut. You can also purchase some gloss products at the beauty supply store or drugstore. Like colored glosses, they will wash out after several shampoos. You can then re-apply it to achieve the same shine.
Another easy way to create the appearance of thicker, younger hair is to use the Cap+ Volumizing Keratin Brush. This new tool was developed by the makers of Capillus® laser therapy caps. It provides instant coverage of thinning hair. It's also an excellent complement to your anti-aging hair regimen. Women and men are excited about it because it provides an unbelievably easy way to apply keratin fibers.
Using it is just like brushing your hair, so it requires no special skills. Cover thin spots quickly and evenly with your choice of 11 different color options. The keratin fiber cartridges are replaceable and inserted into the brush to enhance the appearance of aging hair in a matter of seconds.
Take Care of Your Hair
Anti-aging tips tend to focus on the appearance of your hair. However, you must also take care of your locks from the inside out. A healthy scalp is necessary to grow thick and shiny locks. You also need to nourish your hair cuticle and hair shaft. Two of the best ways to do this is through a clinical-quality hair care collection and hair vitamins. Learn more about these products, as well as other ways to improve your hair wellness:
Clinical hair therapy:

Cap+ Clinical Hair Therapy products are formulated with select ingredients that gently cleanse and moisturize your hair and exfoliate your scalp. Since they work to create an environment for healthy hair, it can grow back fuller and thicker. Try our

Cap+ bundle of products

, including our shampoo, conditioner, revitalizer, and activator. They are designed to address many known causes of hair loss, and are safe for aging hair, color-treated hair, and chemically treated styles. Using these products in conjunction with one of our low-level light therapy devices can further help to grow beautiful, thick hair.

Hair Supplement:

Improve your hair from the inside out with hair vitamins or a supplement. Taken like your other dietary supplements, the best supplements include key hair health ingredients like biotin, cysteine, and saw palmetto. Each of these ingredients helps to address the causes of hair loss and enhance your overall hair wellness. When taken twice daily, our

Cap+ Supplement

nourishes your scalp to support healthy hair. Best of all, our Cap+ Supplement is dairy-free, soy-free, and gluten-free, making it compatible with most diets.
Scalp massages:

A self-massage of the scalp may sound simple, but it can quickly enhance your hair health.

Some

studies on scalp massages

have shown that gently rubbing your scalp can lead to thicker hair. Each time you massage the skin on your scalp, you stretch the cells of the hair follicle, which helps to increase hair thickness. Rub your scalp for at least a few minutes a day, and then combine this approach with your laser therapy cap, clinical hair therapy products, and hair

supplement

for the most youthful-looking locks and nourished scalp.
Try New Hair Treatments
In addition to hair supplements and clinical hair therapy, there have been other innovations in hair care that you should know about. One of the most exciting recent treatments is known as laser therapy. Our Capillus® laser therapy caps employ a technology known as photobiomodulation therapy (PBMT), which was also referred to as low-level laser therapy (LLLT) in the past.
Laser light devices have been used in the medical field since the 1960s to treat health conditions like alopecia, ulcers, and chronic pain. As the treatment has evolved over the years, it has become even more convenient to offer this type of therapy in the comfort of your home.
Here at Capillus®, we offer devices to help men and women reverse the effects of hair loss in the form of comfortable, convenient laser caps. They are FDA-cleared and clinically proven to regrow thinning hair with the help of medical-grade laser diodes. If you are looking for a solution that actually works for pattern baldness, the healing laser light can also prevent further progression of hair loss due to androgenetic alopecia.
For only six minutes of use per day, our laser therapy caps utilize safe, low-level laser light to renew, energize, and stimulate cells within the hair follicle. While your hair will look fuller and thicker, you will also look younger. If you are interested in this convenient and clinically proven approach, it's time to learn about the devices that are available to you. Compare our laser cap products below:
CapillusUltra+:

Our most economical and convenient option, the

CapillusUltra+

, provides you with 560 mW of total laser output. In addition to effective laser energy, you can rest assured that it provides you with more scalp coverage than similarly priced comb and helmet gadgets. Thanks to a silicone inner liner, you will enjoy a comfortable fit. You will also receive a carrying case and a universal AC adapter, which is great for travel.

CapillusPlus:

Take your hair regrowth potential to the next level with our

CapillusPlus

laser cap. This model is our power and affordable mid-range device, which means it provides 1010 mW of laser energy or 1.8x the laser power of the CapillusUltra+. Benefit from better scalp coverage that is both affordable and powerful.

CapillusPro:

The

CapillusPro

is our premier laser device for hair regrowth.

With 1360 mW of total output and professional-grade scalp coverage, you will combat the effects of hair thinning and hair loss better than before. With the pro-level laser cap, you are also getting 2.4x more lasers than the CapillusUltra+. Like our other devices, your laser light cap will never have LEDs—only pure laser light. A three-year warranty gives you the confidence to go with professional-grade quality.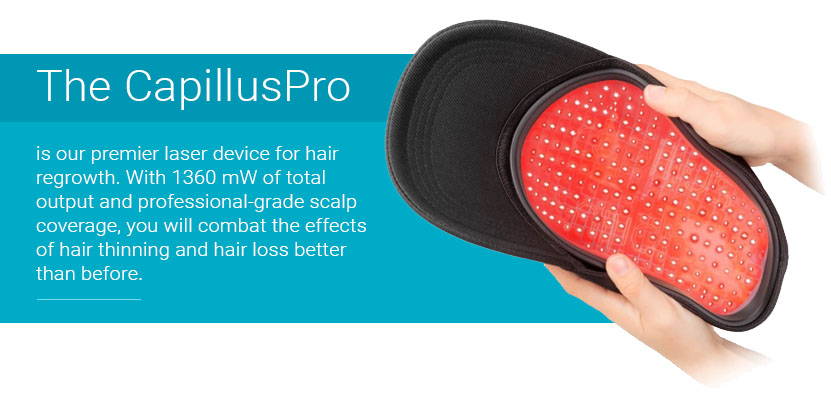 Creating a Youthful Appearance with Healthy Hair
To keep your hair looking youthful and healthy, you will need to employ a few different anti-aging strategies. The hairstyle and color will help your locks look more thick, voluminous, and stylish. You should also be taking care of your hair anatomy with the help of hair vitamins or a supplement, and a clinical hair therapy bundle.
No matter what your age is, your health and self-confidence are important. Consult with a hair care professional if you are unsure about the right cut or styling products. They are happy to help you meet your anti-aging goals.
Finally, don't forget to invest in your hair health for the long term. Choosing the right Capillus® laser cap for your needs will ensure that you are always combatting the effects of aging, as well as conditions like female hair loss or male pattern baldness. It takes some effort to appear younger, but the results are worth it. Now that you know what it takes to appear more youthful through the right hair, you can begin creating your new look and thriving as you age.