4 Hairstyles for Balding Women
Just like men, women are susceptible to symptoms of hair thinning and hair loss. Conditions such as male pattern baldness are talked about more often, but there are just as many hair regrowth treatments for hair loss in women and conditions like female pattern baldness. While you take the time to research and employ different ways to regrow your hair, you can also find solutions to make you feel more confident.
Finding the right hairstyle is an excellent way to add a look of enhanced thickness and volume. Combine one of the looks below with our Capillus® laser hair growth caps. As you regrow thicker, healthier hair at home, you can also enjoy the benefits of a new makeover.
1. Bob Haircut
The bob hairstyle is one of the most classic and dynamic cuts for women. It looks great on ladies of all ages and can even create a more youthful look and appearance. The reason that stylists recommend bob haircuts is because they add fullness to both the roots and the ends of the hair. Since the cut is short, a weighted and heavy look at the top of the hair creates an illusion of thickness and volume. Layers and blunt pieces at the bottom also create a heavier appearance that also is attractive and trendy.
If you are experiencing thinning hair or unhealthy roots, use a root-lifting spray when you style or blow-dry. Using a suite of clinical hair therapy products like our Capillus® Clinical Hair Care bundle can also enhance the health of your scalp while helping to boost your hair's natural volume.
Some of the most popular versions of the bob hairstyle include the long bob (aka lob), the chin-length bob, and the mid-length bob, which adds layers to your locks. Ask your hair-care professional about the best style for your hair health and face shape.
2. Blunt Cut
Another way to make your hair look thicker and more stylish is to ask for a blunt cut. These hairdos are popular for women with thinning hair or female pattern baldness because they create a fuller, thicker appearance. No matter what length you choose, ask your stylist to keep the ends blunt while shaping around the face to add beauty and dimension. The key is to stay as bulky as possible. The best blunt cuts for thinning hair are usually short or mid-length, so they do not weigh down the hair or cause too much stress on the scalp.
Create texture with a little bit of layering and some hair products. You can also opt for a short, straight look that you can make wavy with a curling wand. Cropped blunts look great with a cute clip or barrette, while a smooth, blunt cut tucked behind the ears is both chic and easy to maintain.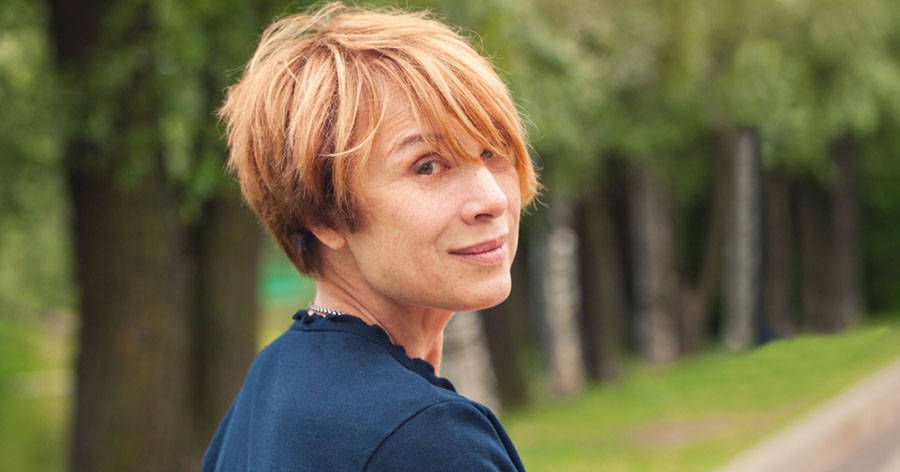 3. Pixie Cut
Women who are interested in a shorter look will love the pixie cut. As a variant of the crop cut, this tried and true style is short on the back and side of the head while staying slightly longer on the top. Some pixie styles are easier to maintain, while others require the use of styling tools or hair products. Most women with hair loss or thinning hair will want to avoid too much heat or chemicals, so talk to your hair professional about the best way to combine dimension and gentle, easy care.
Some of the best styling choices include creating a side part and combing over the hair to add more volume. You can also keep the sides truly short and sport a thick, textured crop on top. Pixie cuts even look great on curly hair. A weightless volumizing gel can help to enhance your gorgeous locks. Leave longer wisps on the sides of your hair to frame your face and create instant elegance. Shaggy pixie cuts also give the hair an added dimension.
4. Side Part
When in doubt, create a side part. While you do not have to change your beloved cut to create this style, the side part will add instant, natural volume. It may also help to enhance your scalp health. Adjust your part while brushing your locks and massaging your head. You will increase the blood flow, nutrients, and oxygen to your scalp and hair, which is another way to stimulate hair growth.
Hairstyles that are most friendly to side parts include the long pixie, the pixie with an undercut, and the blunt bob. Longer, side-swept styles combined with short cuts will add a softness to long or angled faces. Asymmetrical pixie cuts are both dramatic and volumizing.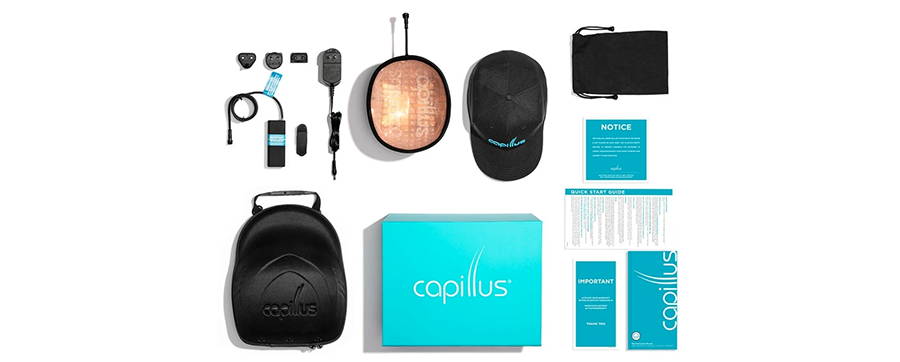 Enjoying Thicker, More Beautiful Hair
Now that you have a few ideas for a new hairstyle, you can bring them to your stylist for a consultation. At the same time you enhance your look, try one of our three Capillus® laser therapy caps at home. Each of our devices uses an innovative approach known as photobiomodulation therapy (PBMT) to promote healthy hair growth.
PBMT was formerly often referred to as low-level laser therapy (LLLT) and has been used since the 1960s. In fact, one of the first uses for LLLT in a medical setting was for the hair loss condition known as alopecia.
Developments in the technology now make it possible to use powerful yet safe laser therapy for hair regrowth anywhere you go. Choose from three levels of laser coverage to meet your hair loss needs. The comfortable, convenient laser cap is worn in the privacy of your home for just six minutes per day. See results for your hair loss and enhance your confidence.
The best hair regrowth strategies, like laser therapy, use a combination of smart, useful solutions, and tools to increase the health of your hair and scalp. Once you are on your way to thicker, more beautiful hair, you will also feel a sense of hope that is sure to enhance your life. Focus on taking good care of the hair that you have—and spend your time and efforts on the treatments and therapies that show results. With this plan in mind, you will know you are doing all that you can to boost your overall wellness.