Low-Level Laser Therapy Benefits
When you begin noticing the first signs of hair loss, you might feel like it's already too late, but it doesn't have to be. Capillus uses clinically proven low-level laser therapy laser therapy caps that are recommended by our elite network of physicians to treat and remediate genetic hair loss. Here are five benefits that Capillus's hair care products can offer you.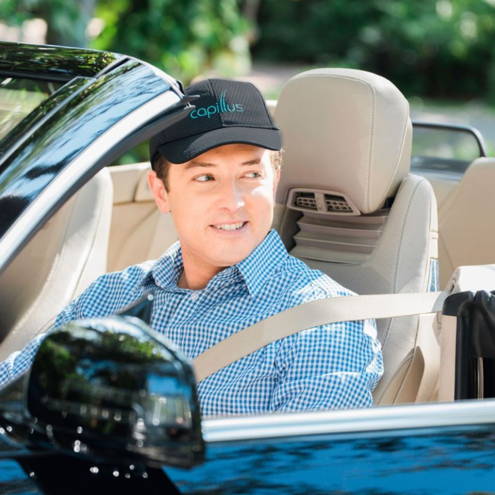 Clinically Proven to Restore Hair
Capillus hair restoration products are some of the finest in-home low-level laser therapy (LLLT) treatments. When used as advised, every day for 6 minutes, Capillus laser hair therapy caps have been shown to be a safe and effective treatment for androgenetic alopecia—male- and female-pattern baldness caused by genetics.
Slim Battery Makes for Hands-Free Use
Designed with a lightweight, rechargeable lithium-ion battery pack, Capillus hair therapy laser caps are easy to use. Rather than having to be seated next to a large machine or needing to be near an electrical outlet, you can take your Capillus on the go, easily slipping the cap's battery pack into your pocket or beneath your waistband. This ease of mobility is exciting, as it means you can undertake your treatment sessions without it interfering with your life, whether you wear your cap during your morning cup of coffee or while you're reading a book in bed.
Easy to Use and Transport
Every Capillus hair treatment product is designed with consideration for your lifestyle. Every one of our products is easy to store and take with you wherever you go. Each of our hair restoration products, including all the accessories, are easily transportable within an included lightweight, protective carrying case that makes them perfect for anyone on the go. Whether you'd like to take your cap to the office or you're often traveling for business or pleasure, your Capillus hair treatment cap and accessories can be easily kept by your side.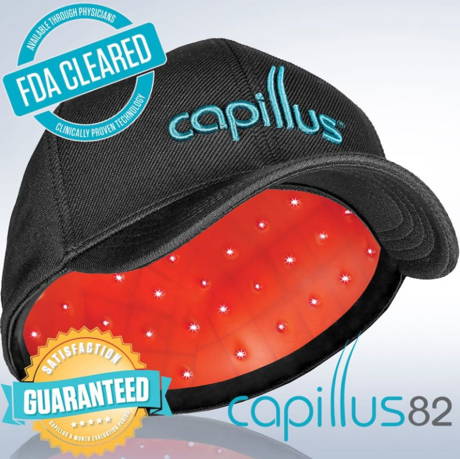 FDA-Cleared Treatment for Hair Loss
Each of our laser treatment caps—the CapillusPro, CapillusPlus, and CapillusUltra—has been cleared by the US Food & Drug Administration (FDA) to promote hair regrowth in males in the Norwood Hamilton Classifications of II-a to V patterns of hair loss; and females who have Ludwig (Savin) scale Classifications Class I-1 to Class I-IV, Class II-1, or frontal patterns of hair loss; both with Fitzpatrick Skin Types 1 to 4. Due to their clinical use, Capillus laser therapy caps are considered to be medical devices. For this reason, they must be approved by the FDA to be legally sold within the U.S. Following numerous clinical trials which showed the efficacy of treatment and safety for use of LLLT, our devices were cleared for national sale and use by the FDA.
12-Month Satisfaction Guaranteed
Capillus created our hair restoration products and services for your peace of mind. As much as we want you to feel comfortable with the quality of your hair, we want you to feel secure in your purchase. For this reason, all of our laser cap devices purchased are backed up by a 12-month satisfaction guarantee.
We want you to try our hair therapy out. If you dissatisfied after using your Capillus device during the 12-month period, we want to hear from you. Contact one of our U.S.-based customer service team members to discuss your issues, and we'll work out a return. We want to ensure that you're pleased with your hair throughout your whole hair therapy venture. If you have any worries along the way, we're happy to discuss them.
Hereditary hair loss is a progressive condition, but you can get the upper hand on it. Prevention is the best advice when dealing with genetic hair loss, so it's best to begin as soon as you start noticing patterned balding and/or thinning. Our U.S.-made (from foreign-sourced materials) devices are FDA-cleared, recommended by our elite network of physicians, and are specially designed to help restore your hair and help reverse your hair loss. You don't have to be tied down by our product, either. In just six minutes a day, you can wear our inconspicuous, transportable cap while you live your life unimpeded.
Don't let hair loss go on before it's too late. If you're noticing signs of genetic hair loss, consider reaching out to your physician or one of our customer service specialists to discuss how our hair restoration products can help.