The Ultimate Seasonal Hair Care Guide: Healthy Hair Tips for Every Season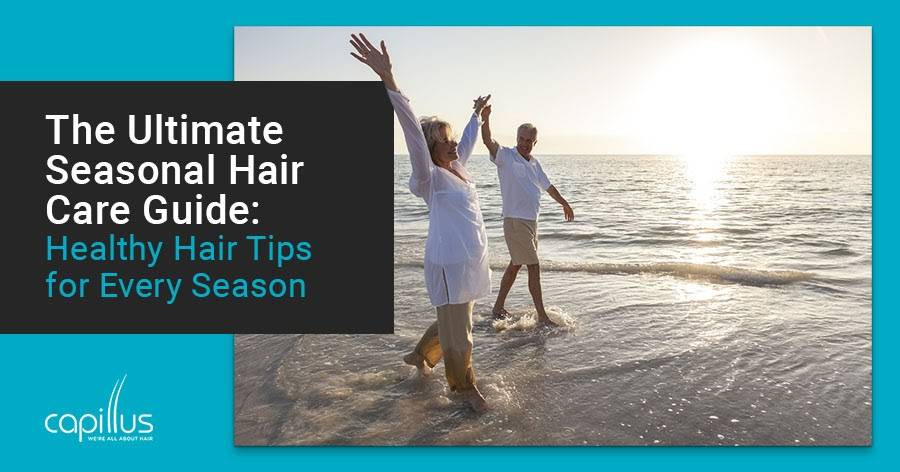 Your environment influences your hair health. As the weather changes, your hair might look or feel different. If you discover the signs of hair loss or thinning hair, you may wonder how much hair loss is normal or if you need to adjust your daily regimen. Many solutions are available to you, including laser hair growth for male pattern baldness, female pattern hair loss, and other types of hair loss issues. The following healthy hair tips will also help you to enjoy healthy, shiny hair every season.
Some of the most common winter hair challenges include a dry scalp, breakage, and split ends. You may notice more dandruff or flakes when it is cold outside. Frigid temperatures and biting wind combined with the warm heat indoors make your hair more dehydrated and brittle than usual. It may be more challenging to get smooth and moisturized hair in the winter months, but there are plenty of things you can do to enjoy better hair health and a more confident look.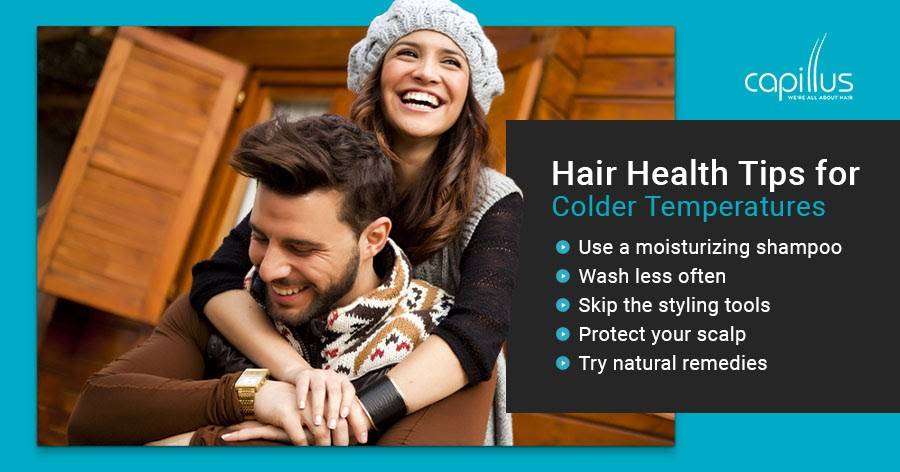 Try the following winter hair health tips during colder temperatures:
Use a moisturizing shampoo: Many products include a formula to moisturize a dry scalp. While you can experiment with different types to see what works for you, we recommend our Capillus® CAP+ Clinical Hair Therapy Shampoo. It removes buildup without stripping your hair of essential oils. It will also keep your scalp moisturized to help prevent itching.
Wash less often: When your scalp is dry, washing it too much can make your symptoms worse. Try skipping a day between shampoos. If you notice less itching or fewer flakes, keep your new routine.
Skip the styling tools: Hair straighteners and curling irons will make your hair more susceptible to breakage and split ends. Skip these tools and try a new loose twist or low ponytail instead. If you take a shower in the morning, blow-dry it on a low heat setting. Use heat protection products to help prevent damage.
Protect your scalp: Wear a winter hat to protect your hair and scalp from the elements. While you are shielding your hair from the sun, snow, and wind, be sure to choose the right type of cap. Coarse fabrics, such as wool and cotton, can help to wick moisture and keep you warm. However, they will also increase the chances of damaging your hair or getting split ends. Line your hats with silk or satin to help your hair move more freely and prevent snags. Measure the fabric and sew it in at home or take it to your local seamstress.
Try natural remedies: Some of the most popular home remedies for dry scalp in winter include tea tree oil, coconut oil, and witch hazel. You can make a hair treatment or hair mask out of everyday ingredients like apple cider, aloe vera, or a combination of olive oil and baking soda. To prevent a potential skin reaction to an ingredient that you haven't used before, test a small amount on your skin.
Tricks for Gorgeous Hair in Spring
Blooming flowers and chirping birds are a few signs that spring is here. You may also notice a difference in your hair. Both men and women need to care for their hair health after a cold and dry winter. In addition to getting your hair cut or styled by a professional, you may also be interested in trying a few spring hacks at home.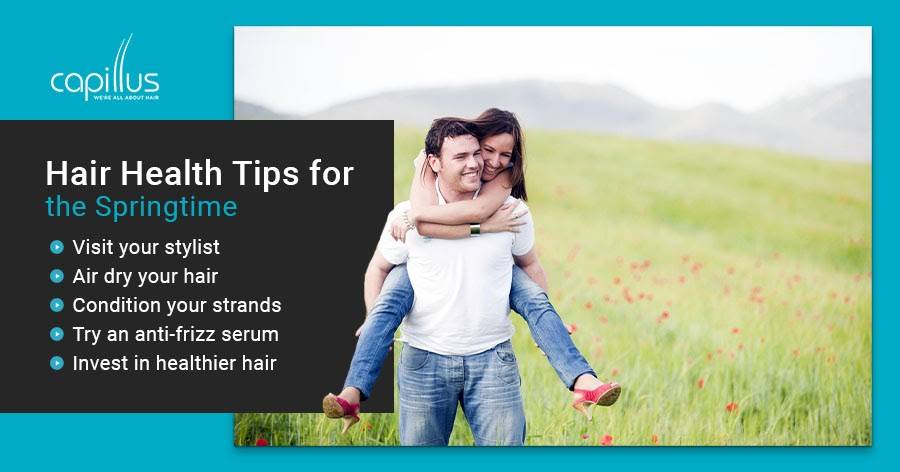 The following tips will help you to boost your hair health and growth in the springtime:
Visit your stylist: After the new year, pay a visit to your stylist. Your hairdresser can remove any breakage or split ends from winter. They can also upgrade your color, give you a natural-looking set of highlights, or trim your hair for spring and summer growth. Talk to your hair care professional about which haircut or style may be best for you.
Air dry your hair: Spring is an excellent time to give your hair a break from blow-drying and hot tools. Go all-natural by air-drying your hair after you wash. Comb your hair back with a light moisturizing cream to keep your look sleek and fresh. Longer hair often looks well-kept when pulled away from your face with a clip or in a loose ponytail. Avoid using accessories that are too tight on the scalp, as you may snag your hair as you remove them.
Condition your strands: If your hair is dry and you do not use a conditioner, it is time to consider adding one to your regimen. Our Cap+ Clinical Hair Therapy Conditioner helps your locks retain moisture to make hair soft and shiny. It also rinses free and clear without weighing your hair down, which enables you to achieve that bouncy, radiant spring look.
Try an anti-frizz serum: Warmer temperatures and more rain can make your hair look frizzy. Spring is an excellent time to find the right hair serum that you can count on throughout the summer. By applying it to damp hair, you can seal in moisture while smoothing your hair cuticle. This practice will make your hair look shinier and help it stay hydrated from the inside out.
Invest in healthier hair: Spring is a popular time to invest in your whole body health. It is also an excellent time to work toward thicker, more beautiful hair. The right vitamin regimen can help to improve your hair health from the inside out. Cap+ Hair Health Supplement is a dietary supplement formulated for overall hair health. It contains ingredients such as biotin, saw palmetto, and cysteine to address the causes of hair loss.
Summer Hacks for Hair Health
Summer is the season for spending time outdoors and getting plenty of sunshine. While the sun is an excellent source of vitamin D, its rays can also damage your hair. Summertime hair hacks are all about protecting your hair and scalp while preparing for the colder months ahead. You may also be taking steps to ensure that you do not experience too much hair shedding in the warmer weather.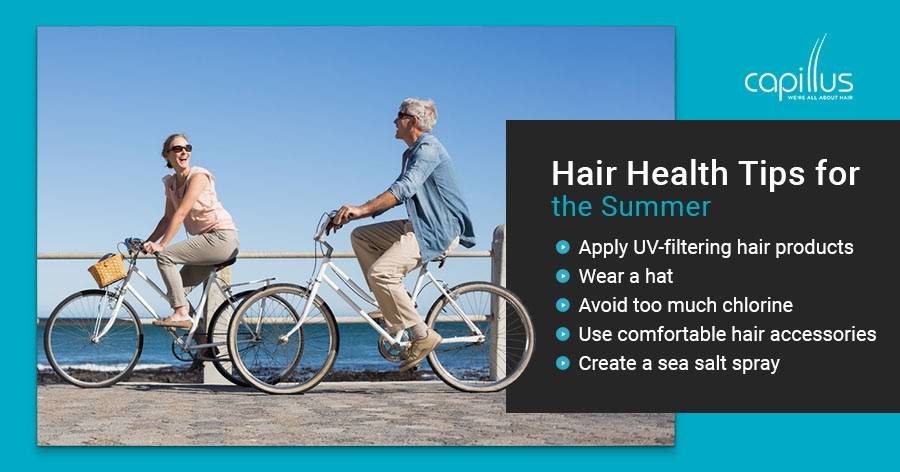 You can get gorgeous summer hair with the following tips:
Apply UV-filtering hair products: A variety of hair care products contain UV filters. Like sunscreen for the hair, these formulas help to protect your scalp and locks from the sun's harmful UVA and UVB rays. Gels, creams, and sprays are available. While they prevent sun damage, they will also protect colored-treated hair from fading. Shop online or consult with your hair care professional for their recommendations.
Wear a hat: Shield your hair and protect your scalp from sunburn and excessive heat by wearing a hat outdoors. Baseball caps, wide-brimmed beach hats, and cabana hats are just a few of the many stylish choices for summer. You can even find water-resistant hats for spending time at the beach and swimming in the pool.
Avoid too much chlorine: Everyone loves summer days in the pool, but too much chlorine can wreak havoc on your hair. While the chemical is necessary for keeping the pool clean and sanitary, it can quickly dry out your strands and scalp. It can even discolor your hair. Skip the swim cap to avoid damage to your locks. Instead, try soaking your hair in freshwater before you get into the pool. By absorbing fresh water first, it will take on less chlorine afterward. You can also try applying a hair mask before swimming, which will help to lock in moisture.
Choose comfortable hair accessories: Sweat and warm temperatures can make loose hair uncomfortable on your neck. If you wish to move strands from your face or to create an intricate look, be sure to use accessories that will not snag or tangle your hair. Soft clips, barrettes, and cloth hair wraps are a few of the most popular options for a chic summer appearance.
Create a sea salt spray: You do not have to get an expensive hair treatment or use hot tools to get summer beach waves. Instead, create a DIY sea salt spray at home. Combine a teaspoon of sea salt with a teaspoon of coconut oil. Next, mix it with water and place the mixture inside a small spray bottle. Spray it on the hair, scrunching gently to create the wavy look. Moisturizing coconut oil will help to counteract any drying effects.
Hints for Healthy Autumn Hair
Some hair shedding is normal during the fall and may even be attributed to a condition known as seasonal hair loss. This is one of the reasons why you need to keep cleansing and moisturizing your hair as usual. Another goal is to keep your locks looking shiny and gorgeous throughout the autumn season while preparing for the harsh winter months that lie ahead.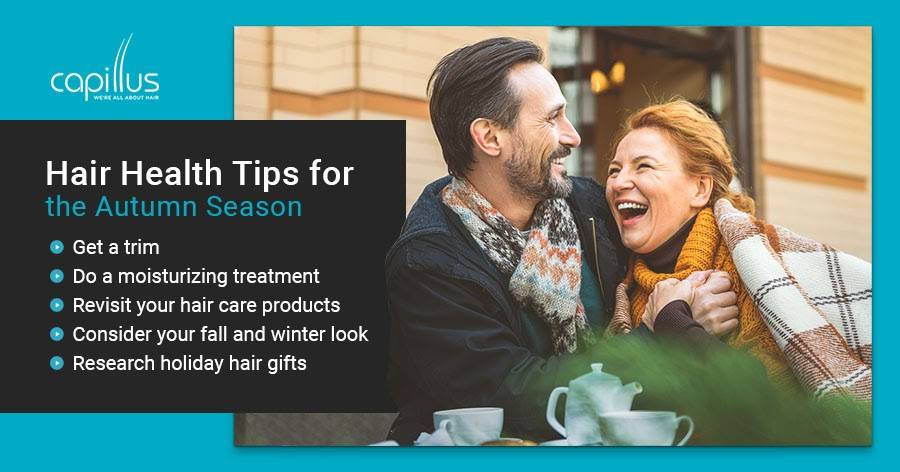 The following tricks will help you to get healthy autumn hair:
Get a trim: If you let your hair grow all summer, now is a great time to trim off the damaged hair. By the time the holidays arrive, your style will grow into your ideal length. Ask your stylist to cut off the split ends—or experiment with a new cut.
Do a moisturizing treatment: Repair damage caused by the summer sun and heat by having a moisturizing treatment. Professional therapies are available at the salon. You can also do a DIY treatment at home. Some of the most popular natural hair masks include avocado, banana, and honey. You can also shop at your local beauty supply store or search for top-rated products online.
Revisit your hair care products: Now that you are getting back into your routine, it is a perfect time to revisit your hair care routine. Does your hair need a hydrating shampoo, new styling cream, or a product that promotes hair regrowth? Start experimenting now, so you know what to use when it is time for holiday events and parties.
Consider your fall and winter look: Look ahead to autumn get-togethers or your winter vacation. If you are hoping to sport a sleek, smooth look, start practicing with serums, creams, or gels. For those who plan on using hot tools on longer hair, decide how you are going to protect your locks. If necessary, stock up on larger quantities or travel-size bottles.
Research holiday hair gifts: Some of your favorite hair care products may be on sale for the holiday season. Shop in stores or search online for deals like shampoo and conditioner bundles. You may also find sales on premier devices for hair regrowth. A variety of mini product bottles are also available to give as stocking stuffers, which makes it a great time to try them for yourself.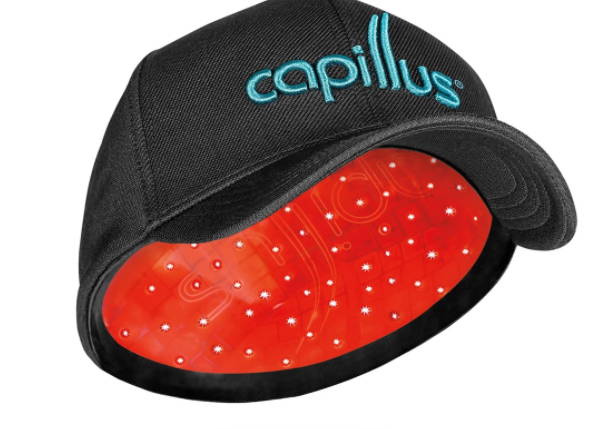 Enjoying Healthier Hair All Year Long
Now you know how to keep your hair healthier and shinier during every season. No matter what time of year, steer clear of damaging chemical treatments. Avoid brushing your hair too often or with too much force, to prevent hair loss. When you need mess-free coverage of thinning hair, try our revolutionary Cap+ Volumizing Keratin Brush. This new Capillus® product provides you with an unbelievably easy way to apply keratin fibers in seconds. It is as simple as brushing your hair. Add it to your daily routine for enhanced confidence and a more attractive look.
If you are experiencing symptoms of hair loss due to male pattern baldness, female pattern baldness, or another condition, you may be interested in laser light therapy for hair regrowth. Laser hair therapy is sometimes referred to as photobiomodulation therapy, and has also often been historically referred to as low-level laser therapy, or simply LLLT. LLLT using red light lasers has been reported to stimulate the sebaceous glands for silkier-looking hair and to increase melanin production in the hair follicles.
It is also shown to increase cell metabolism in the scalp for thicker and more durable hair shafts. Best of all, you can reap the benefits of photobiomodulation therapy in the comfort of your home.
Capillus® low-level laser therapy for hair regrowth is an FDA-cleared treatment, clinically proven to prevent further progression of hair loss due to pattern balding. It also helps to regrow thinning hair. Wear your Capillus® laser therapy cap for only six minutes a day to stimulate, energize, and renew cells within the hair follicle for thicker, healthier hair. A combination of the right devices, hair care products, and hair care regimen can make your hair look thick, attractive, and shiny in any weather.