Celebs Turn to Laser Caps for Thicker, Sexier Looking Hair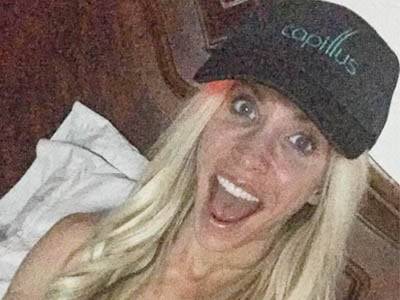 Celebrity fitness trainer and TV host, Heidi Powell, wears Capillus272 Pro for hair treatment. Celebrities are becoming more outspoken about treating thinning hair. Perhaps one reason is due to improvements in technologies and treatment options. With each passing year, the shame and embarrassment of thinning hair seems to fade as treatment options garner more and more positive attention from the media, hair loss sufferers, and the general public. Below are just a few examples of celebrities who have openly shared their struggles with hair loss, encouraging others to take up the fight against receding hairlines and balding crowns. Manchester United star forward, Wayne Rooney, is famous for having shared before and after photos to millions of Twitter followers while openly discussing his journey toward a fuller head of hair. In the United States, NFL star Wes Welker openly endorses hair restoration with Dr. Robert Leonard, an authorized member of the Capillus® Physicians Network in Boston, Massachusetts. And when it comes to getting a hair transplant that's worthy of the red carpet, leading physicians recommend the use of laser therapy to stop the progression of hair loss both before and after the procedure. "When you have a hair transplant, it is equally important to put the brakes on hair loss," explains Dr. Bernard Nusbaum. An ISHRS Golden Follicle Award winning surgeon, Dr. Nusbaum has performed more than 10,000 separate hair transplant procedures and is highly regarded as an expert in the international hair restoration community. "We recommend a complement to hair transplant surgery, and Capillus® products are an excellent option."
No Surgery? No Problem. Laser-only Treatments Gain Popularity
Hair transplant is not necessary in all cases, however. For some men and women, symptoms of thinning, shedding, or balding can be effectively managed with laser therapy alone. Celebrity fitness trainer and television star, Heidi Powell, recently took to Facebook to share photos with her brand new Capillus272™ Pro. "You GUYS!!" she writes in a Facebook post to more than 575,000 Fans. "I might cry right now I'm so happy. I'm doing my first laser treatment [with Capillus®] to help restore my hair's health! Can you even believe technology these days?!" Powell is perhaps best known as co-host of the hit ABC show, Extreme Weight Loss.
Get Fuller, Sexier Looking Hair at Home
At Capillus®, We're All About Hair. We are pleased to offer a variety of laser therapy caps to create thicker, fuller, and sexier looking hair from the privacy and convenience of home. Capillus272™ Pro – The first laser cap to receive FDA Clearance, no other wearable product offers more lasers or better coverage than the Capillus272™ Pro. Visit the following page to learn more about Capillus272™ Pro. Capillus202™ – New this spring, the Capillus202 delivers the very same laser technology as the 272, but with fewer diodes for adults with less pronounced hair loss. Visit the following page to learn more about Capillus202™. Capillus82™ – With 82 low level laser diodes and a price of just $799, no other laser cap delivers a better value per laser than the Capillus82™. Visit the following page to learn more about Capillus82™. If you suffer with hair loss, it's important to always consult a physician prior to making any changes to diet, lifestyle, or prescription medication regimens. For more information on Capillus® laser caps and clinical hair therapy products, readers are invited to contact Capillus Customer Service directly at 1-844-280-4680.