Low-Level Laser Therapy & Minoxidil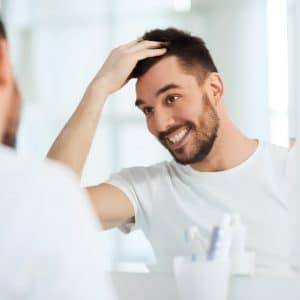 When it comes to treating hair loss, low-level laser therapy (LLLT) is the most convenient and autonomous approach. The freedom to use your laser cap alongside another hair loss treatment is appreciated by many. Many Capillus® users and their physicians employ laser therapy to enhance surgical hair restoration results. But, you don't have to undergo an operation to couple LLLT with another hair loss treatment. Capillus works alongside clinically proven minoxidil, whether applied in foam, lotion, or spray form.
Minoxidil, the science behind global brand Rogaine®, was first developed in the 1980s as a prescription-only topical hair loss solution. Today, Rogaine is an FDA-approved topical treatment that reinvigorates shrunken hair follicles to regrow lost hair. Traditionally, minoxidil comes in a cream or foam that is applied topically to the scalp in a 2 percent strength or 5 percent strength solution. Men's Rogaine foam (5 percent solution) is designed to be used two times per day, every day. Additional shedding within the first few weeks is normal, but regrowth typically begins after four months of habitual use. Women's Rogaine foam in 5 percent strength is designed to be used once per day. Women's Rogaine topical solution comes in a 2 percent strength for twice daily applications.
Keep in mind, Rogaine can cause scalp irritation, facial hair growth, rapid heartbeat, swelling, weight gain, light-headedness, dizziness, and flushing. The side effects are usually limited and stop with discontinued use. Rogaine is only approved for individuals age 18 and older, and women should not use treatment while pregnant or breastfeeding.
Sprays vs. Foams vs. Creams
One of the biggest drawbacks of Rogaine is its messy application. Using hair growth creams and foams adds extra time to your everyday routine, not including clean up.
To counteract potential messes, Capillus is proud to offer a 5 percent minoxidil solution with an easy-to-use spray pump. Unlike foams and creams, Capillus 5% Minoxidil for Men doesn't drip or leak during twice daily applications. And, the targeted applicator helps the formula reach the scalp for faster absorption. Results may transpire two months after treatment begins, but could take up to four months. Continued, dedicated use is crucial.
Capillus® minoxidil spray works alongside your Capillus laser therapy cap safely and effectively. To inquire about Capillus 5% Minoxidil for Men, or our series of laser caps for hair regrowth designed to fit a range of budgets, call us at 844-280-4680 today.