8 Reasons Why You Should Treat your Hair Loss with Capillus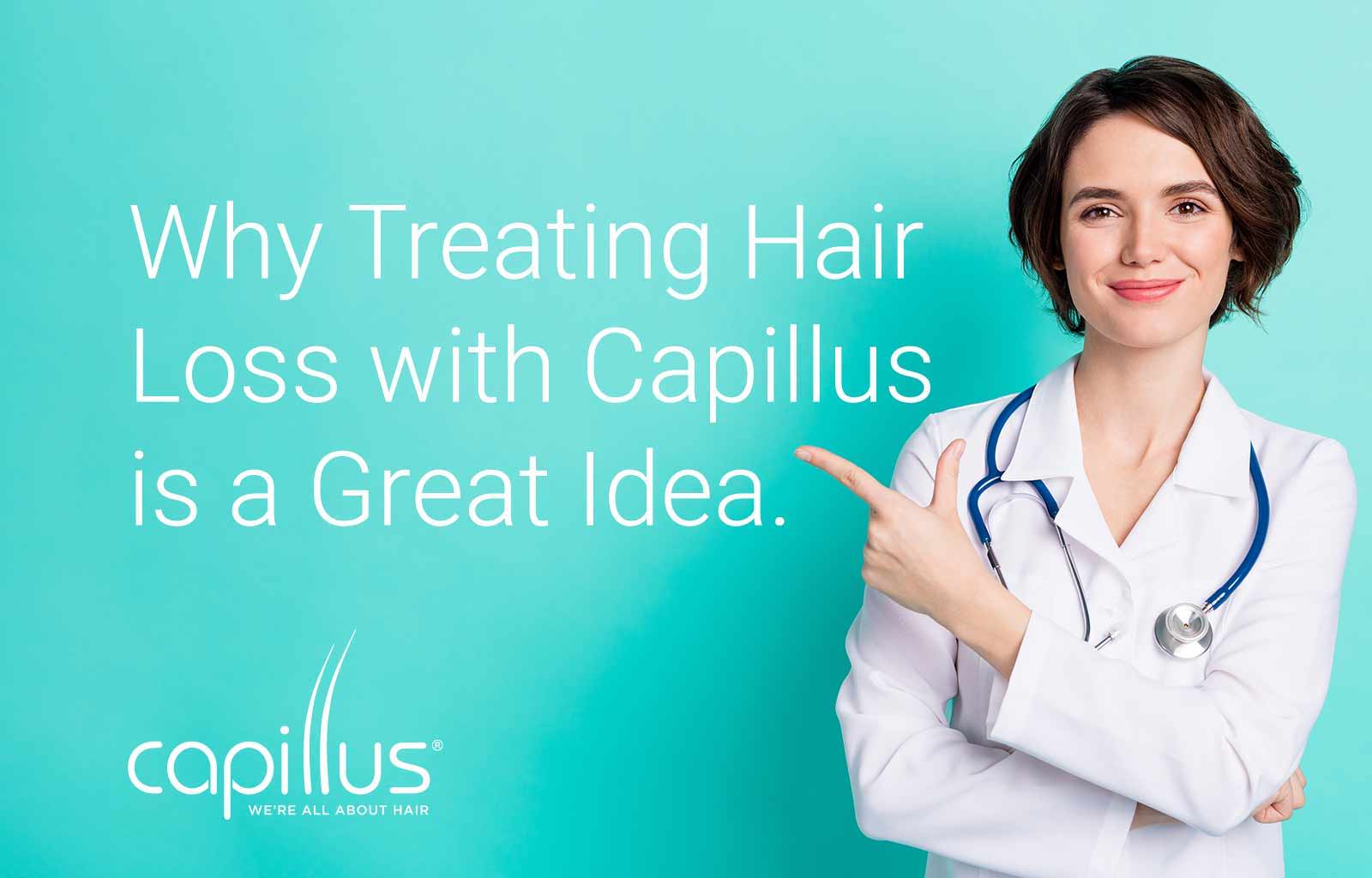 Whether or not you have begun to lose hair - if hair loss is a concern, it is always a good idea to start treatment before hair loss is visible. Pattern hair loss is progressive, meaning it worsens it over time. As hair loss advances, hair follicles cease to produce hair altogether. Once a follicle is dead, there is no way it can grow hair again. The good news? If you start early treatment, you can actually help prevent it from happening.
There are a few medically accepted ways to treat hair loss. The key to selecting a hair growth treatment is to choose the one that works best for you and your lifestyle. Here are a few reasons why we like Capillus laser therapy to treat hair loss...
Capillus laser therapy is cleared by the US FDA as a treatment method for mild to moderate stages of pattern hair loss (androgenetic alopecia). Laser therapy is a clinically proven technology to treat pattern hair loss. Countless clinical trials have shown laser therapy to be effective at increasing healthy hair counts. To see if Capillus is right for you, click here.
Unlike other treatment options for hair loss with risk of sexual and developmental side effects (finasteride), Capillus laser therapy has no known adverse side effects. It uses energy from laser light to nourish hair follicles on the scalp.
There are also treatments for hair loss (such as minoxidil) that require application of a topical liquid or foam 1-2 times a day. While effective treatment, it may pose an inconvenience to styling hair. Minoxidil works best on dry hair but since it requires absorption to the scalp, should not be shampooed off until at least 4 hours after application. It can also stain clothing and bed linens if your hair and scalp are not fully dry.
4. It is Quick & Convenient.
You do not have to leave home to use Capillus laser therapy. The home-use device is hands-free & mobile. It works under a hat and is powered by a battery pack so you can wear it during the short 6 minute treatment session while you go about your activities - in the time it takes to drink a cup of coffee. It is a short 6 minutes so don't worry about it causing hat hair! And you can use at home or elsewhere - either in the morning or night - whenever it works best for you.
LaserFlex™ technology used inside the Capillus hat is comfortable to wear. A flexible, clear, smooth medical-grade, hypoallergenic silicone separates the laser dome from your scalp so you should not feel any discomfort during the short 6-minute daily treatment. It is not rigid so the fit adapts to the shape of your head easily.
6. It is Recommended by Physicians*
Capillus laser therapy has been a top choice of hair restoration physicians within the Capillus physician network since 2012. With more laser coverage options and the highest standards of quality, it is easy to see why many respected hair restoration surgeons prefer Capillus, the first laser therapy cap cleared by the FDA to treat hair loss. Click here to see why physicians choose Capillus for their practices.
7. Capillus is a US Medical Device Manufacturer
Every Capillus laser device is engineered in the company's ISO13485-certified, FDA-registered manufacturing establishment in Miami, Florida, where the company is based.** All sales, support, service and distribution is handled from the same location so you can trust the level of quality and service provided. To see the story of how Capillus caps are made, click here.
8. Capillus is Cost Efficient
Don't let the sticker price scare you. Capillus devices are a cost-efficient way to treat hair loss because it only requires a one-time purchase of your device (plus replacement battery pack as needed).*** Other treatments for hair loss such as topicals and pharmaceuticals require an indefinite supply over time requiring replenishment of your supply on a monthly basis. Laser therapy at a clinic also requires payments per each session plus the drive to the appointment. If you are not careful about treating your hair loss before it becomes advanced, you may need to turn to costly hair restoration surgery down the road to restore your hair.
Good to know: Capillus laser therapy can be financed for those who qualify. Learn more about financing a Capillus cap here.
---
If you are worried about hair loss, don't wait until it is too late. Learn more about Capillus laser therapy caps, click here.
---
* Recommended by our Elite Network of Physicians.
** From foreign sourced materials.
*** Capillus battery packs are replaceable, generally lasting from 12-18 months and can be purchased directly from the Capillus website as needed.